Best Driver Golf Clubs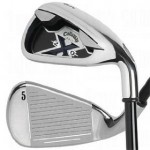 There are two factors to consider when you purchase the Best Drivers available on the market, and after that it is mostly what you are comfortable with. The first variable is the loft of the club. Most drivers come between nine and 12 degrees of loft. A low-ball hitter would benefit from a higher-lofted driver and conversely, a high-ball hitter would benefit from a lower-lofted driver. Many of the Top Drivers developed by golf manufacturers focus on increasing ball speed and creating a larger sweet-spot. No matter how far technology comes with respect to the Top Drivers, a driver will still remain the most inconsistent club in your bag. This is because it is the longest club in your bag. The longer the golf club, the wider the arc, and the more room for error. The second important factor when purchasing the Best Driver on the market is the shaft flex. There are three general categories of flex that include stiff, regular and light. The type of shaft you will need is unique to you, and depends on your swing speed. A higher swing speed relates to a stiffer flex and vice versa.
Most of us do not hit the ball straight every time, and if you do, more power to you. But for the rest of us, manufacturers of the Best Drivers have created different weighting variables that can be very advantageous. For example, if a player has difficulty slicing the ball, some of the Top Driver models are weighted in the club head, so that it will promote a lower spin shot, bringing the ball closer to center. All of the companies that produce the Top Driver golf clubs such as Callaway, Titleist, Adams, Nike and TaylorMade have "Draw" Model clubs. So if you slice the ball, consider taking advantage of the new technology available to you.
For more information on the Top Drivers in golf, make sure to browse our reviews of the Best Drivers in golf below. From there, you will able to view our full reviews of the product line, as well as find prices of the set of clubs. You will be able to purchase online and have the Best Drivers sent to your front door if you order here from the best golf club sets.