Best Golf Club Sets For Women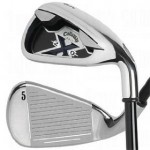 Golf equipment technology has come a long way, and there a lot of options when it comes to finding the Best Golf Club Sets for Women. 10 years ago, golf equipment was made primarily for men but there has been dramatic growth and expansion by the manufacturers. Today, companies produce women-specific golf clubs to maximize production and tailor to a woman's golf swing. Top Golf Club Sets for Women take into account several variables. Typically, women are shorter than men and swing slower. Manufacturers use different measurements for developing a standard length of irons, fairway woods, and drivers. Slower swing speeds also correlate to a lower ball flight. To account for this, the golf companies produce clubs with higher lofts than would normally be available on a standard product line. For example, driver lofts come in 13, 14 and even 15 degrees, and fairway woods are offered all the way down to a nine-wood in most companies. The clubs are also a lighter weight. While a standard men's driver shaft weighs anywhere from 65 to 85 grams, a standard woman's' would be closer to 45 or 50 grams. Top Golf Club Sets for Women are also different in the make-up of the set. Often, the Best Golf Club Sets for Women begin at a five-iron on down through a sand wedge and exclude the three-iron and four-iron. This is because the three and four-irons have low lofts, so manufacturers produce the hybrids to replace them.

Callaway offers the widest selection when it comes to the Best womens Golf Club Sets . Every series offered in men's clubs are paralleled in women's. Callaway produces three series with various models for women in irons, drivers and fairway woods. They have the X-series, the Big Bertha series and the Fusion series. They also offer package sets. The package set it called the Solaire and includes everything you would need to get started. They include a driver, fairway woods, irons, putter and even a bag, all for one price. This is recommended for the beginner. Other manufacturers that produce Top Golf Club Sets for Women include TaylorMade and Ping. TaylorMade offers the R7 and Burner series for women while Ping has the Rhapsody series. Both TaylorMade and Ping are similar to Callaway, in that the design of the golf clubs are women-specific. This is very advantageous, as 10 years ago women were a forgotten demographic in golf.
For more information on Golf Club Sets for Women make sure to check out our reviews of the Best Women's Golf Club Sets. There, you will be able to read a full review of the product line as well as get prices for each of the sets. From there you will be able to purchase online and have the Best Golf Club Sets delivered to you.