Best Iron Golf Club Sets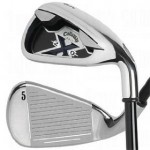 When looking for the Best Iron Sets available in the golf market today, there are several variables to consider prior to making a purchase. This is important because you want to make sure the club purchased, best suits the type of golfer that you are. The technology available in the Best Iron Sets today can be very advantageous when properly matched. Golf manufacturers develop many variations of golf club-heads to provide players with an array of options. For example a beginner or an intermediate player would be best served with a cavity back club-head design, with an off-set in combination with a hybrid . The cavity back club-head design in the Top Sets of Irons provide a lower center of gravity, that is pushed down and back, to allow for a bigger sweet spot and a higher trajectory. The off-set promotes a square club-head at the point of impact. This is ideal for the beginner or intermediate player who does not make consistent contact, and needs forgiveness on off-center hits. Conversely, a better player might be best served using a muscle-back club-head design, or a pocket-cavity design. The Golf Iron Sets using this design work best for a player who makes consistent contact, with an ability to create trajectories and move the ball right or left. Every golf manufacturer generally imposes both styles of the best Iron golf club Sets that cater to every skill-level. Companies such as Callaway, Titleist, Mizuno, TaylorMade, Nike and Cleveland, are just a few examples of companies who produce some of the Best Golf Iron Sets. They create both cavity-back and muscle-back designs.
TaylorMade has recently been named the Top Iron Sets in golf in terms of sales. They feature the R Series and the Burner Series, both of which have several models. Callaway also has some of the Best Iron golf club Sets available and have long been perceived as the go-to iron for the beginning player. The Best Sets of Irons in Callaway feature a cavity back, and pocket cavity designs that best suit the intermediate and beginning golfer. Callaway implores the X series, Big Bertha Series, the Fusion Series and the Diablo Series. Titleist and Mizuno primarily develop Top Iron Sets for the intermediate to better player. This is evident in their muscle back and pocket cavity club head designs. Titleist created the AP 1 and AP 2 Iron Set. Mizuno has an MP Series and a MX Series. Nike and Cleveland have been viewed as the little brothers to the other big golf manufacturers but have re-established an image for producing some of the Best Iron Sets available on the market. Both Nike and Cleveland create Top Irons for every skill-level.
For more information on the Top Irons available, be sure to consult our reviews of the Best Iron Golf Sets towards the bottom of the page. From there, you will able to read our reviews of the products available to you, as well as find prices on each set of irons. You will be able to easily purchase and have the Best Iron Sets sent to your front door. Thanks for visiting us and we hope you find the best golf club sets to improve your game.