Best Wedge Golf Clubs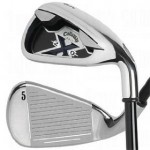 People struggle with their golf-games inside 100-yards, so it very important to understand the Best Wedges in golf available to you, and what advantages a Top Wedge can do for your short game. Selecting the correct wedge is unique to the individual for several key reasons. The first reason is that every persons golf swing is different. Your swing is different from your friends, or your co-workers, or whoever it may be. Your arc is different, your tempo is different, your angle of decent is different, your set up is different. And that's perfectly fine, because there is no one way to hit a golf ball. But, knowing your swing is a very important element to choosing the Best Wedge golf clubs that is tailored to your game. For example, you want to know the yardages you want to use them for. Are you looking for that 100 yard club? 80 yards? Every one's swing speed and ball flight is unique. Fortunately there are many lofts available in the Top Wedges produced by manufacturers.
The three categories of the Best Wedges include a Gap, Sand and Lob. A Gap wedge is designed to replace the "gap" in between your pitching wedge and sand wedge. They are anywhere from 52-54 degrees in loft and will very in distance depending on the player. The trick to choosing the right loft for you is knowing how far you hit the ball. The Top Sand Wedges are usually 56 degrees in loft and were created to get out of sand-bunkers around the green, but are also used from the fairway like any other iron. The Best Lob Wedges range from 58-60 degrees of loft and are used close to the green and out of sand bunkers as well. We recommend that you at least carry a gap wedge, and then either a sand or lob wedge depending on the distances you want to use them for. The Best Wedges provide a huge advantage to any player who matched up the correct ones.

For more information on the Top Wedges available, look at our reviews of the Best Wedges below. There, you can get full product reviews and prices on the best golf club sets including wedges. From there, you can easily purchase online and have the Best Wedges in golf sent to your door.